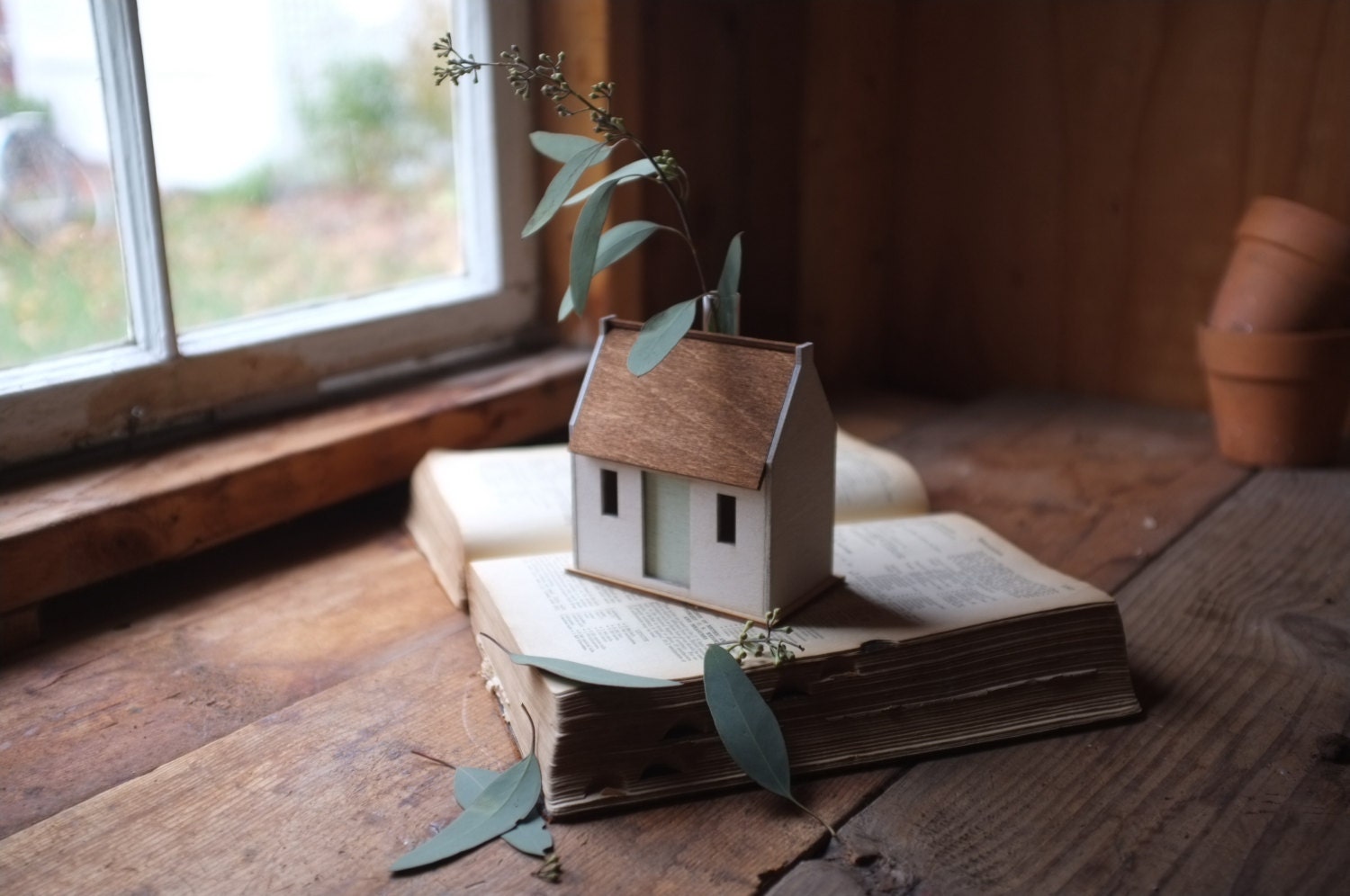 Ever since Alva's birth we've been wanting to move to a bigger house. One with a room for Alva and one for the boys to share. Also a house with less stairs, not two and half floors like now, is something that has been on our wishlist for a while. And of course, the thing our daydreaming is all about – a garden… Unfortunately it has been really hard to find a house for rent in the village we want, either it's newly produced (we love old houses with a soul), too pricey or just too small. So when I stumbled upon an add for an big, old stone house with a descent price I immediately called Mathieu and asked what he thought about it and he in turn contacted the owners and were invited to visit.
And what a house! Built in the 18th century with a thousand crooked angles, horrible colors on all the walls and four different flooring but with three bedrooms, a large kitchen and living room and – the best thing of it all – a forgotten little garden overlooking the valley below… We are so lucky!
The moving date is for the first of May and I really hope you want to follow along on this new adventure with my tribe!
• • •
Ända sen Alva föddes har vi velat flytta till ett större hus. Ett där Alva får sitt egna rum och pojkarna delar ett. Även ett hus med mindre trappor, inte två och en halv våningar som nu, har stått på önskelistan. Och så det vi alltid drömmer om och som alltid är det våra dagdrömmar handlar om – en trädgård… Tyvärr har valen inte varit så stora när det kommer det hus att hyra i just den byn där vi vill bo. Bara nyproducerade "små" hus med en liten lerig jordplätt framför. Inte alls det vi brinner för, vi älskar gamla hus med själ. För hyra vill vi, inte köpa, vi vill "känna in oss" vilken by vi vill landa i innan vi börjar med ett sånt livsprojekt. Så när jag snubblade över en annons på franska Blocket om ett stort gammalt stenhus till ett rimligt pris, skickade jag den snabbt till Mathieu för att höra vad han tyckte. 
Och vilket hus! Byggt på 1700-talet med hur många sneda vinklar och vrår som helst, hemska färger på alla väggar och fyra olika parkettgolv och plastmattor men med tre sovrum, stort kök och vardagsrum och – en bortglömd liten lummig trädgård med utsikt över den karga skogen i dalen nedanför… Lycka! 
Den första maj går flyttlasset och jag hoppas att ni vill följa med på vårt nya äventyr!
PS. That little house is actually a lovely vase and you can find it here 
Åsa